IBERAMIA awards the prize for the best article of the conference to Leticia Oyuki Rojas

Santa María Tonantzintla, Puebla, November 29, 2022. The Ibero-American Conference on Artificial Intelligence (IBERAMIA), in its seventeenth edition, awarded M. C. Leticia Oyuki Rojas Pérez, a second-year doctoral student from the National Institute of Astrophysics, Optics and Electronics (INAOE), the award for Best Conference article.
The article submitted by the student is titled: "Where are the Gates: Discovering Effective Waypoints for Autonomous Drone Racing". This article is an important part of the thesis that Oyuki Rojas is developing in her postgraduate course to obtain her doctoral degree, and that she is carrying out under the direction of Dr. José Martínez Carranza, INAOE researcher and leader of the group of autonomous drones of this Conacyt research center.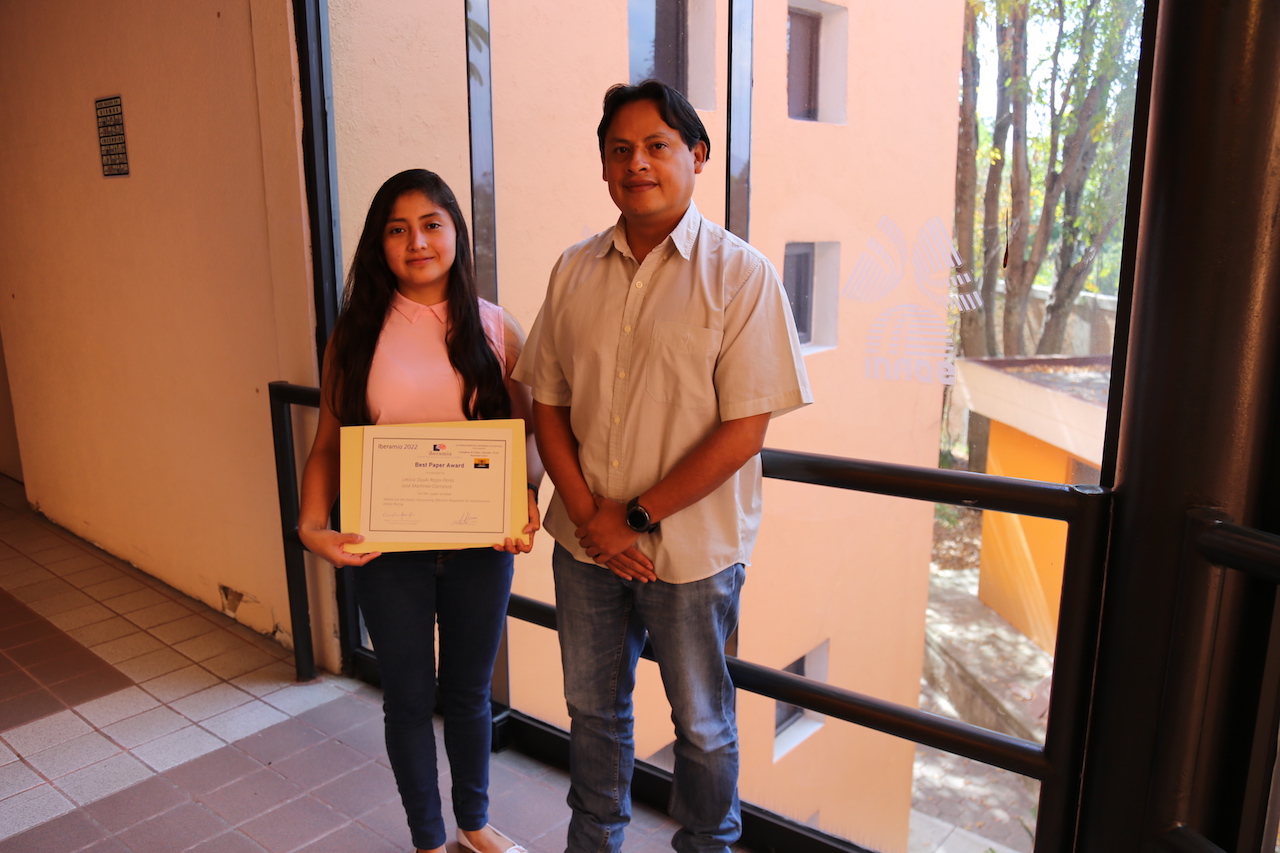 The XVII Ibero-American Artificial Intelligence Congress was held in Cartagena de Indias, Colombia, from November 23 to 25, 2022. It was organized by the Ibero-American Artificial Intelligence Society in collaboration with the University of Cartagena and with the support of the Artificial Intelligence Chapter of the Colombian Computing Society.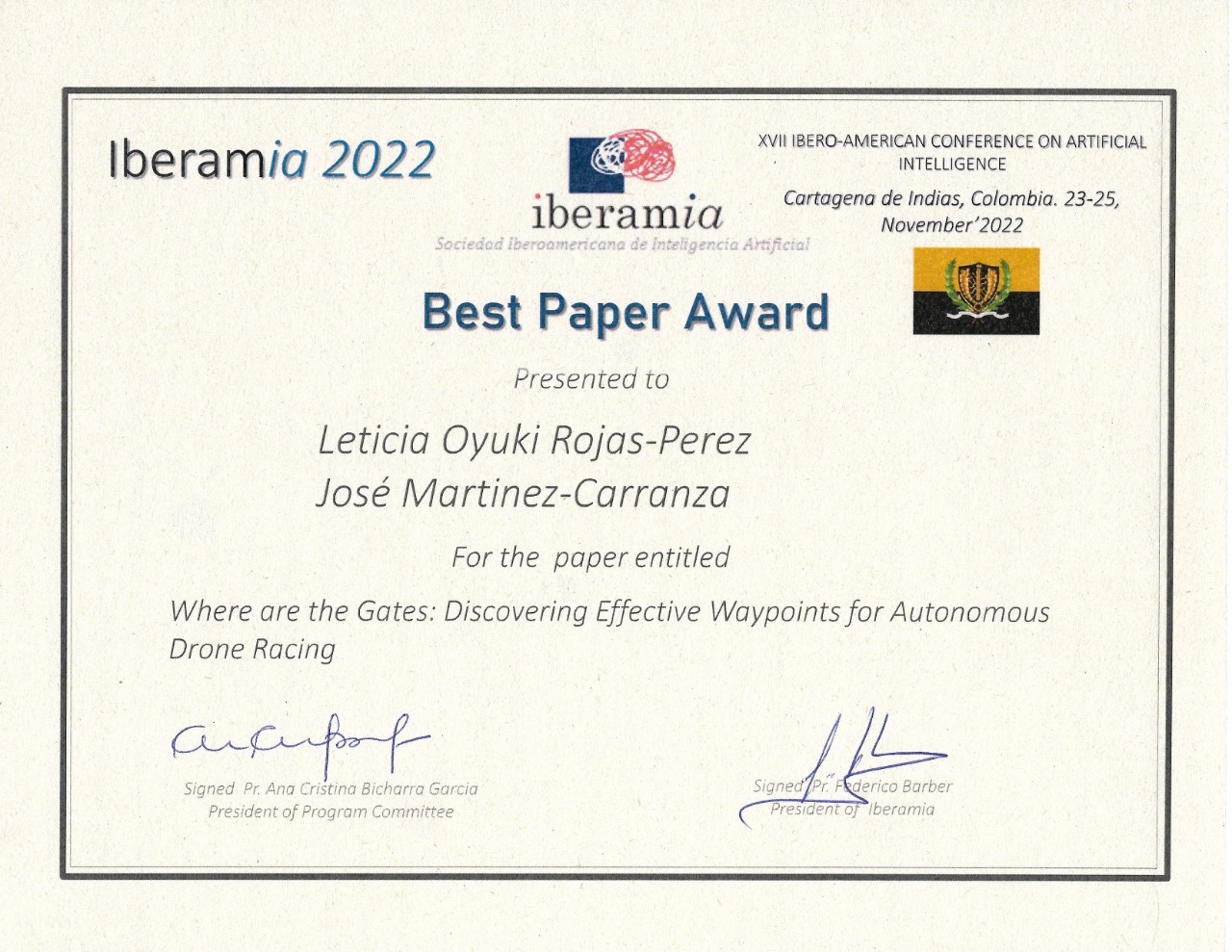 IBERAMIA is the leading international conference where the Ibero-American AI community comes together to share research results and experiences with researchers where the main topics include machine learning, planning, knowledge representation, reasoning, computational intelligence, data processing, natural language, robotics and perception, autonomous agents and multi-agent systems, AI in education, general AI, social AI and AI applications, to name a few.
The work of M. C. Rojas Pérez consisted of finding specific points that would allow a drone to navigate autonomously on a drone race track. The drone must recognize those patterns and navigate smoothly, and once it recognizes those exit points, it generates a trajectory to navigate the runway faster.
This research work contributes to the development of artificial pilots that, through learning and experience gained with artificial intelligence techniques, may one day compete against drones flown by humans.
The prize, awarded by IBERAMIA, includes the publication of the extended article in a journal indexed in the Journal Citation Report (JCR).
Previously, M. C. Oyuki Rojas Pérez won first place in the master's thesis category of the José Negrete Ramírez national contest awarded by the Mexican Society of Artificial Intelligence. She has served as captain of the QuetzalC++ drone team, a team led by Dr. José Martínez Carranza, which has participated in international competitions where important distinctions were also obtained, such as first place in Latin America and the Caribbean in the OpenCV AI Competition in 2021 and first place in the IEEE IROS 2017 Autonomous Drone Racing.
M. C. Leticia Oyuki Rojas Pérez studied her at the Instituto Tecnológico Superior de Atlixco in the Mechatronics Engineering career. He has collaborated as a research assistant in the Robust Autonomous Flight of unmanned Aerial vehicles in GPS-denied outdoor Areas (RAFAGA) projects, financed by the Royal Society of the United Kingdom through the Newton Fund, and in the project Capture and processing system of video and aerial photography for drones and light aircraft, financed by the Conacyt-INEGI Sector Fund, both projects under the direction of Dr. José Martínez Carranza.
She has also participated in scientific dissemination activities, tutorials, courses and live demonstrations of autonomous drones. These achievements undoubtedly reflect the quality of the work developed at INAOE in the area of intelligent autonomous drones and artificial intelligence.
  For more information visit https://ccc.inaoep.mx/~carranza/
Last update: 08-12-2022 / 12:20 by Guadalupe Rivera Loy