INAOE celebrates the International Day of Women and Girls in Science on February 11th
Santa María Tonantzintla, Puebla, February 4th, 2022. With the aim of highlighting the role of women in science and promoting the access of girls and adolescents to education in science, technology, engineering and mathematics (STEM), on February 11th, five scientists from the National Institute of Astrophysics, Optics and Electronics (INAOE) will offer virtual talks as part of the activities that INAOE has organized to celebrate the International Day of Women and Girls in Science.
The virtual talks will be given by Dr. Itziar Aretxaga, researcher at the Astrophysics Department; Dr. Lil Rodríguez, researcher from the Computer Science Department; Dr. Teresita Spezzia, researcher of the Optics Department, and Dr. Patricia Guzmán, responsible for INAOE's Linkage and Project Management and PhD in Electronics. Oyuki Rojas, a doctoral student in Computer Sciences who has been awarded nationally and internationally, will also participate.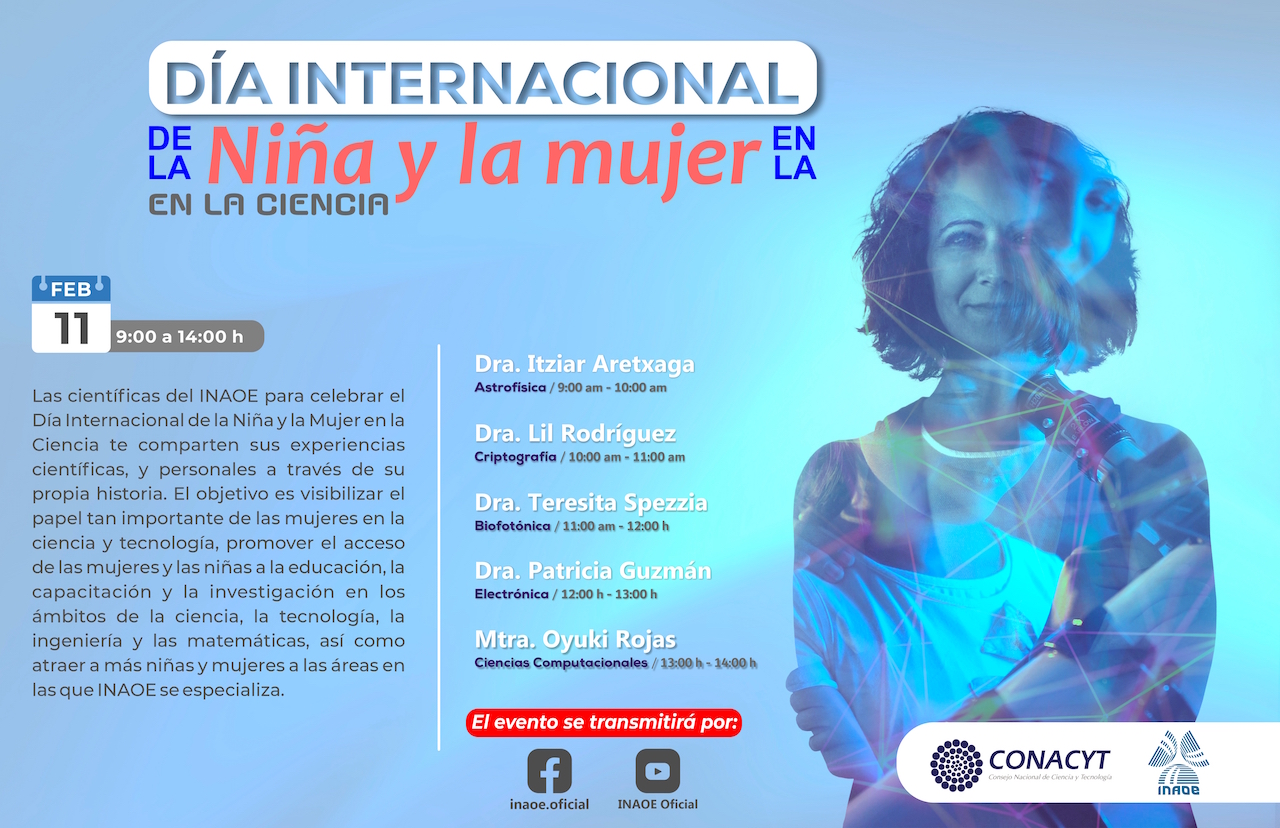 These scientists will share their personal and professional experiences. With this, it is intended that girls and young people know at first-hand the paths that led them to science and feel motivated to study and dedicate themselves to the STEM areas.
On December 22nd, 2015, the United Nations General Assembly established an annual international day to recognize the critical role of women and girls in science and technology.
According to UNESCO, women continue to face obstacles in the field of science: less than 30 percent of the scientific researchers in the world are women. This international celebration aims to achieve full and equal access and participation in science for women and girls and is a reminder that they play a critical role in science and in the technology communities and that their participation must be strengthened (https:// en.unesco.org/commemorations/womenandgirlinscienceday)
As has happened since 2021, the INAOE activities for the International Day of Women and Girls in Science will be virtual, but this time there will be two forms of participation, since a virtual room will be opened, with limited space, for those girls who register in advance, which will give them the opportunity to have closer contact with the scientists. To have access to the virtual room, you must send an email to jnava@inaoep.mx
The event will also be broadcast live through the INAOE Facebook page (https:/ /www.facebook.com/inaoe.oficial/)
For more information, please visit https://www.inaoep.mx/vinculacion/actividades-de-divulgacion
Last update: 23-02-2022 / 12:49 by Guadalupe Rivera Loy