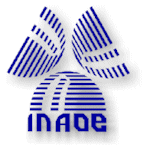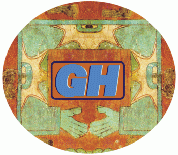 The Program
The Guillermo Haro program is in honor of the remarkable Mexican astronomer Guillermo Haro and will take place at INAOE, an institute founded by Haro, where he carried out most of his astronomical research. Besides Astronomy, you will find active groups in Computer Science, Electronics, and Optics.
Getting to Puebla
Transportation from the Mexico, D.F. airport (airport code: MEX) to Puebla: there is a comfortable bus service by "Estrella Roja" which runs from Mexico City airport to the city of Puebla every 30 minutes. These leave from the airport zone E-1, one floor above the International Arrivals. Search the sign "zona de autobuses" and go through the tunnel. The fare is $150.00 Pesos ($280.00 Pesos if you buy the return ticket) and is paid in a kiosk located in front the bus departing zone. The ride takes about two hours. Those wanting to see the landscape (once outside Mexico City!) should sit on the right hand side of the bus.
Buses departing at the hour (13:00, 14:00, 15:00, etc...) arrive to Puebla bus station (known locally as CAPU) while those departing at the half-hour (13:30, 14:30, 15:30, etc...) arrive to station of "4 Poniente" located nearer to Puebla's downtown. For a complete timetable, click here. We recommend you to take the bus to CAPU, where taxis have fixed prices.
If arriving to CAPU we recommend that you get a regulated taxi ticket (at one of the kiosks with a TAXIS sign on it) to Tonantzintla ($80 Pesos, add $8 Pesos if you arrive after 10:00 PM, the ride to Tonantzintla takes some 20 minutes) or to "Puebla centro" if you are hosted in downtown ($22 pesos to Puebla's downtown). Make sure you take a yellow and white taxi. Tell the taxi driver to drop you at "El Observatorio" in Tonantzintla. If you are hosted in a hotel on the city centre, just tell the taxi driver the hotel's name. From the "4 Poniente" station there are only standard (black) taxis. It is recommended to fix the prize in advance (it should also be less or equal to $100 Pesos to Tonantzintla, $40 pesos to downtown),
We strongly advise you against taking taxis from Mexico City airport to Puebla as the fare will be astronomical (at least 500 pesos).
If you are highly adventurous and insist on driving to Tonantzintla, the basic instruction is to go to the city of Puebla (120 kms East), then after entering town head to Cholula (8 kms West) and from there to Tonantzintla (5 kms South). Simple, isn't it? To make life easier, exiting the airport you have to take "boulevard aeropuerto" to the south, after some 3 to 5 kms take "Calzada Ignacio Zaragoza", a wide kind of freeway road, towards the East. After some 15 kms it leads to the beginning of the motorway. Mind: take "Puebla cuota" and NOT" Puebla libre" (a rather bad road). You can find a map here of the last part of the adventurous trip.
Local Information
Facilities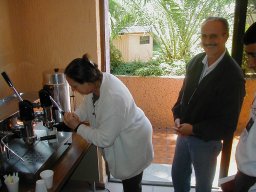 Lectures will be delivered at the Auditorio Docente. Labs will be in rooms
2 and 4 at Centro de INformacion. There will be 25 desktops, but we recommend to bring laptops, Linux (preferred) or Mac. Unix for beginners will be taught, as well as basic programming skills, where needed. CD material can be downloaded before the school.
Contact Addresses
Attn: N-Body School / Guillermo Haro Program
Email: gh2006@inaoep.mx / secregh@inaoep.mx
Fax: Abroad: +52.222.2472231 ; within Mexico: 01.222.2472231
Phone: Abroad: +52.222.2663100 ext 2117; within Mexico: 01.222.2663100 ext. 2117
Postal:
    Secretaria del Programa Guillermo Haro
    Instituto Nacional de Astrofisica Optica y Electronica
    Luis Enrique Erro 1
    Tonantzintla, Puebla 72840, MEXICO

Previous GH conferences with useful information
These pages have the usual blurbs about how to get to INAOE, travel loding,etc. we can just lift that from there. Here are some recent examples: