Venue
The workshop will be held at INAOE (Instituto Nacional de Astrofísica, Óptica y Electrónica), a research institute located in Tonantzintla, Puebla, Mexico (Google Map).

Travel Information
IF ARRIVING AT MEXICO CITY INTERNATIONAL AIRPORT (MEX)
There is a comfortable bus service provided by Estrella Roja which runs from the airport to the city of Puebla (4 poniente or 4 Pte. bus station). Estrella Roja leaves from zone D in Terminal 1 of the airport, next to International Arrivals (zone E). Buses also depart from Terminal 2 near gate D, between entrance 4 and the Domestic Arrivals exit point. You can buy your ticket near the bus departing zone, at the upper floor of Terminal 1 or the ground floor of Terminal 2. The fare is close to 300 pesos and the ride takes about two and a half hours. See the timetable of Estrella Roja for more information.
You can get an official taxi from the bus station to INAOE. The fare is around 180 pesos to Tonantzintla and the ride takes about half an hour. Tell the taxi driver to drop you at INAOE in Tonantzintla, commonly referred to as "el observatorio".
If you are highly adventurous and insist on driving to Tonantzintla, the basic instructions are: first go to the city of Puebla (120 km east), then, after entering town, head to Cholula (8 km west) and then to Tonantzintla (5 km south). Exiting the Mexico City International Airport, take "Boulevard Aeropuerto" to the south, after some 3 to 5 km take "Calzada Ignacio Zaragoza", a wide kind of freeway road, towards the east. After some 15 km it leads to the beginning of the motorway. Make sure to take "Puebla cuota" and NOT "Puebla libre" (a rather bad road).
IF ARRIVING AT THE INTERNATIONAL AIRPORT OF PUEBLA (PBC)
The International Airport of Puebla in Huejotzingo is located 25 km from the city of Puebla, the state capital. Its official name is Aeropuerto Internacional de Puebla Hermanos Serdán. The airport offers car rental, taxis and ATMs, but there is no hotel on the premises.
Airlines and destinations
United Airlines/Air Canada: Houston (IAH)
American Airlines: Dallas (DFW)
Delta Air Lines/Aeromexico: Monterrey (MTY)
Aeromar: Guadalajara (GDL)
Volaris: Cancun (CUN), Monterrey (MTY), Tijuana (TIJ)

There is a taxi stand called "Transportes terrestres" in the airport. Tell the taxi driver to take you to INAOE in Tonantzintla, commonly referred to as "el observatorio". The fare is around 400 pesos and the ride takes 30-45 minutes.
Accommodation
The participants will be accommodated in the guest rooms at INAOE, where basic facilities and service are supplied. During the weekdays, breakfast, lunch, and dinner will be provided at INAOE. Options will be given later for what to do during the weekends.
Note that tap water can be safely used to wash your teeth and take a shower, but it is not drinkable. Please, check whether you need to tramit a visa for Mexico or to bring a power adapter.
INAOE
Luis Enrique Erro 1
72840, Santa María Tonantzintla, San Andrés Cholula, Puebla, Mexico

MAP OF OUR FACILITIES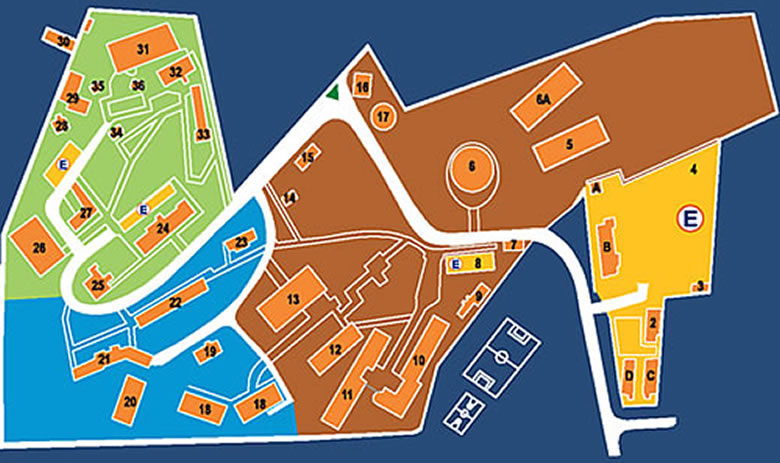 Housing Area

Cabin
Bungalows (1-6)
Bungalows (7-24)
Bungalows (25-37)

Dining Room

Warehouse

Main Parking Lot

Teacher's Building

Academic Development Office
Student Cubicles
Multiple Purpose Room

Information Center

Auditorium 
Library 

Security Booth /Main Entrance
Official Parking Lot
Historic Archive

Administrations Building

Administration and Finance Office
Technological Development Office
Research Office
Main Office

 
 

Academic Coordination

Astrophysics
Optics
Electronics

Teacher's Auditorium

 

Optics Labs

  

 Locker Rooms

Swimming Pool

 

Bungalow 5

Braulio Iriarte Room
Scientific Dissemination
Robotics Labs

Schmidt Camera

Computer Sciences Building

General Administration
Researcher's Cubicles
Computer Sciences Coordination
Multiple Purpose Room

Bungalow 3 (General Administration)

 

Nanoelectronics Building

Bungalows 1-2

Logistics Department 
SUTINAOE
Infirmary
Events Room

 

GTM Building

 

Bungalow 4

 
 

Enrique Chavira Building

Plate Room 
Student's Cubicles

Bungalows 6-7

Microelectronics Building

Instrumentation Lab (computer vision)

Maintenance Workshop

General Storage

Mechanics Workshop

Aspherical Surfaces Lab

Technological Development Building

Engineering Center
Mechanical Design Workshop

Optics Workshop
Solar Telescope
Astrophysics Booth 
Maintenance Office